Welcome!—We are glad that you are taking the time to learn about our husband & wife owned business---Verde Valley Olive Oil Traders.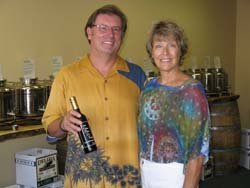 Our retail store, located in the center of the Historic District of Old Town Cottonwood, has become a dream come true that started for us in the spring of 2010. Main Street in Old Town Cottonwood is a pedestrian friendly two blocks of historic looking shops that include four wine tasting rooms, featuring Arizona's finest wines, popular restaurants, an artesian bakery, and an eclectic collection of clothing, antique and specialty shops.
Each of our 20 varieties of olive oils are specifically selected and imported from both the northern and southern hemispheres to provide our in-store guests and on-line shoppers with the most recently produced and healthiest oils available anywhere. We only purchase our fresh olive oils in small batches to insure ultimate freshness. This is why our selection of imported olive oils will change from season to season.
We also import a variety of white and red balsamic condiment vinegars from Modena, Italy. Each of these are aged up to 18 years produced using the traditional Solera method yielding a rich smooth product unlike balsamic vinegars found in your grocery store.
We have also sourced and sell a delicious White Truffle Oil (Liquid Gold) and Black Truffle Sea Salt along with other unique culinary delights.
Owners Mike Kilpatrick & Dawn Waltman invite you to stop by and share their passion for healthy cooking ideas using ultra fresh olive oils and aged balsamic vinegars.
If you are looking for a gift but aren't sure what to buy – we offer gift certificates good towards any purchase – and they never expire! Check our website often as there is always something new, including seasonal products and recipe and gift ideas.
We welcome your comments regarding your in-store shopping experience with us and or our website.
Dawn Waltman & Mike Kilpatrick