1002 North Main St. Cottonwood, AZ
(928)-634-9900
WWW.VVOliveOil.com
Monday-Saturday 10:30AM-6:00PM
Sunday 11:00AM-5:00PM
Verde Valley Olive Oil Traders-Cottonwood is a family business owned and operated by Mike Kilpatrick and his wife, Dawn Waltman. We are passionate about our products and look forward to sharing them with you!. We provide our in-store guests and on-line customers with the freshest Extra Virgin Olive Oils and most delicious Aged Dark and White Balsamic Vinegars at a very affordable price.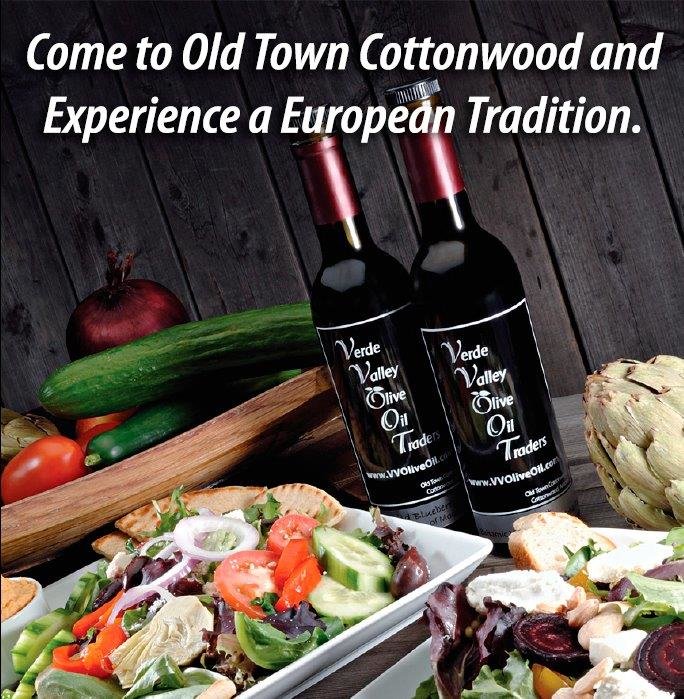 We believe that "The best olive oil is the freshest olive oil." To accomplish this, we select and import only freshly crushed Extra Virgin Olive Oils from artesian small batch producers in both northern and southern hemispheres. This way, you are able to experience and taste the very freshest olive oils in the world – right here in Old Town Cottonwood.
In addition to an ever changing variety of varietal olive oils, we also offer the opportunity to enjoy a wide assortment of naturally flavored Italian olive oils and gourmet oils to tantalize your palate. Our aged white and dark balsamic vinegars are imported from Modena, Italy. They are each produced using the traditional Solera method yielding a rich, smooth product unlike typical balsamics found in your local grocery or specialty foods store.
Please come in, meet us and have fun sampling our products. We can help assist you find the perfect oils and balsamics for yourself or for a special gift. We are happy to ship your selections anywhere in the U.S.
If you would like to review our current offerings, please click on the "SHOPPING" tab above to view a full product descriptions and pairing suggestions.
Dawn Waltman & Mike Kilpatrick, co-owners